My role
Creative, UI/UX Designer
Involvement
Concept
Prototyping
UI Design
Low fidelity mock-ups
Team
Digital Marketing
Creative
Business Development
Research
Breakdown cover in brief
In 2018, other than a few new smaller players; the breakdown cover market is dominated by traditional suppliers such as car clubs RAC and the AA using conventional processes. Allianz provides cover for partners including BMW, Volvo and Jaguar but to compete with the major players in the direct market wants to innovate to provide a more dynamic product to consumers that are competitive, but with a focus on removing those pain points that exist.
After a pilot launch in 2016; that allowed drivers to request help even if they weren't covered by breakdown insurance. We as a creative team were challenged to create a brand that appealed to the consumers.
Customer profiles
Our two main personas
Natalie
42 year old
Nurse
Parent of 2
Natalie is a parent of two teenage children. She drives to and from work and for running errands. She shares her car with her husband who has primary ownership of the vehicle. He arranges the breakdown cover.
Tom.
21 Year old Male.
Full-time student.
Drives a 12-year-old hatchback.
Tom is a full-time student. He lives with friends at University and drives a car that cost less than £500. He believes it's not worth buying a breakdown cover. He might be covered by a families breakdown cover that comes with a bank account but isn't aware.
Advertising opportunities
Marketing on a shoestring
In addition to online marketing (PPC ads), we produced a short animation that described the process of on-demand breakdown cover to potential B2B suppliers.
We also explored marketing opportunities to target the younger market; the final idea was creating a guerrilla marketing campaign based on providing assistance at music festivals.
At festivals, you find various instances of broken down vehicles, (often a mirror of the car owner). We proposed sending our technicians to festivals up and down the UK to create a campaign based on real-life situations that festival-goers find themselves in when they return to their cars at the end of the festival, using this a content creation exercise, where over the festival season RESQYOU could show the weekends (car) breakdown on social media channels.
Branding
Calming at the time of need
The graphic designers in the team looked at the existing logo. We worked together to align the typography to the design of interactive elements, UI and brand. Exploring the use of a switch to indicate turning something on, to reference getting the vehicle back up and running, speed lines to show an efficient service. However, we returned to a pinpoint icon with the Q loosely replicating a magnifying glass.
We also softened the harshness of the existing brand, to create a feeling of comfort with the customer at their time of need. From the tone of voice being more conversational to a softened typographic choice for the website and mobile app.
App review
Aligning the app
Although it wasn't in scope to make changes to the app, we reviewed the current journey provided and suggested improvements; this worked in tandem with the Allianz project in using our current over the phone customer journey chat to influence the app based assistance process. Looking at similar apps that provide a similar service, we looked at the success of Uber's interface research and worked hard to create a seamless experience for drivers who are looking to request roadside assistance via a web app, or through the app at their time of need.
UI Design
Concept for index page animation
We tested new colour schemes and a simplified layout to indicate a simple process with an illustrative line style replacing the imagery-heavy previous brand.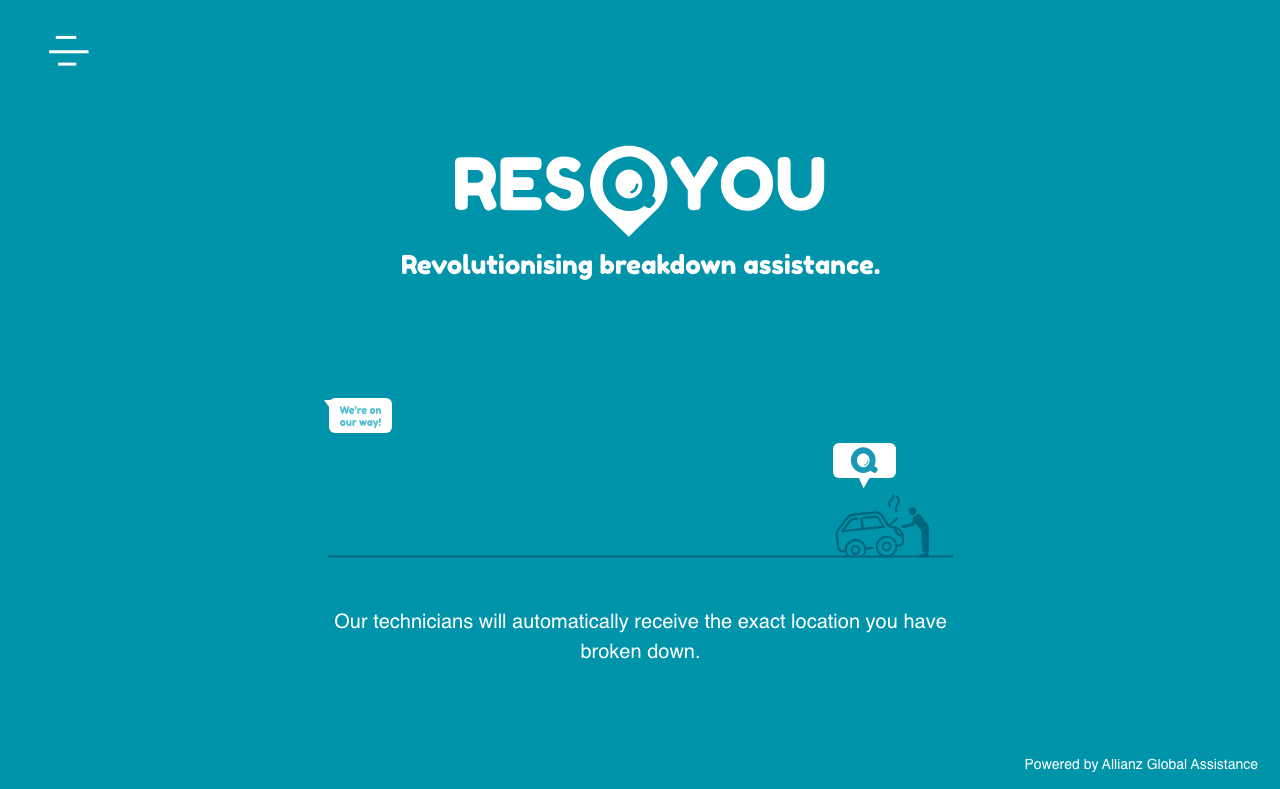 Rodney, you plonker!
This time next year, you'll be out of date again, but for now, your browser to view this website correctly. Update my browser now